Google Business Profile owners can invite others to manage their listings without sharing their own login information.
To share access on your Google Business Profile, follow these steps:
1. Sign in to Google Business Profile.
2. On the menu at the left, click Users.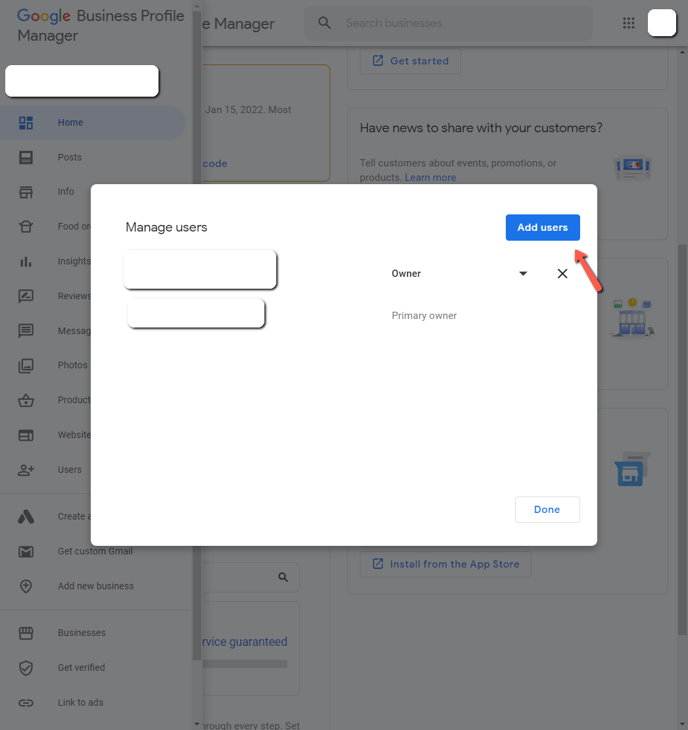 3. Click Add users.
4. Enter the name or email address of the person you'd like to add.
TIP: You can also add an agency as a manager. Learn how to add an Agency to your Google Business Profile.
5. Choose a role for your colleague:
Owner
Manager
6. Click Invite.
Please see our Capability Chart for Owners and Managers so that you may place your colleague in the right level.
Capability
Owner
Manager
Add and remove users
Remove Business Profiles
Edit all URLs
Accept all Google updates
Opt in or out of Bookings
Update certain location settings

Edit the name, category, or website on
a location
Close a location
Create location groups

Manage Business Profile directly on Search and Maps
Manage Google Ads account links
Use Messaging
Add custom labels to make it easy to find
particular groups of locations
Edit attributes
Edit food delivery link

Edit some main business info, like hours and
address

Edit phone number
Edit services
Create, manage, and publish posts
Add, delete, and edit cover photos and additional photos
Add, delete, and edit logos
Add, delete, and edit product
Respond to reviews
Download insights
Respond to Q&A
Please note that Site Manager Level is no longer available.