To keep your Business Profile as accurate as possible, Google uses information from a variety of sources like user reports and licensed content.
If the information provided by business owners is reported as incorrect or outdated, the location will receive updates from Google. You can see all such updates listed with a "Google updates" status.
Google can update locations at any time. Google-updated information appears live on Maps, Search, and other Google services. You can review these updates to make sure that this information is accurate for your customers. Different types of updates are shown in different text colours in the profile editor: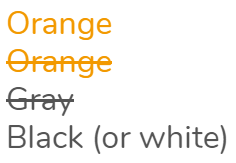 Orange: New data from Google
Orange (crossed out): Data removed by Google
Gray: Data replaced by Google. New data appears in orange.
Black (or white): No updates from Google
You may choose to accept, discard, or edit Google updates.